About Us
Our Network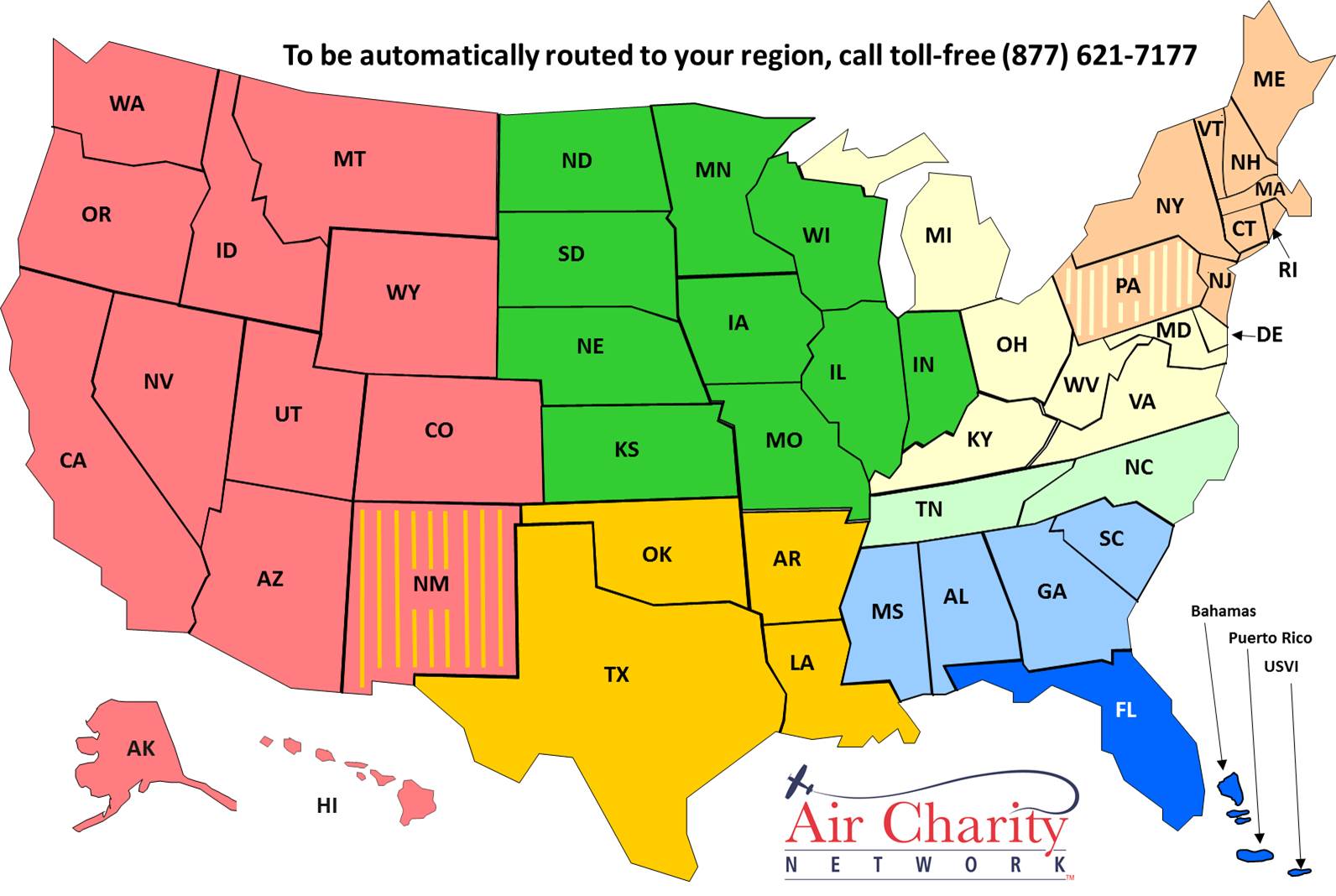 Air Charity Network is comprised of network member organizations who cover specific geographical service areas and coordinate volunteer pilot flights in the continental United States as well as Alaska and Hawaii.
To be automatically routed to your region, call toll-free (877) 621-7177 or click on any of the respective links below:
Airlift Hope NC-TN (North Carolina, Tennessee)
Angel Flight Central (Illinois, Indiana, Iowa, Kansas, Nebraska, North Dakota, Minnesota, Missouri, South Dakota, Wisconsin)
Angel Flight Mid-Atlantic (D.C., Delaware, Kentucky, Maryland, Michigan, Ohio, Pennsylvania (shared), Virginia, West Virginia)
Angel Flight Northeast (Connecticut, Maine, Massachusetts, New Hampshire, New Jersey, New York, Pennsylvania (shared), Rhode Island, Vermont)
Angel Flight South Central (Arkansas, Louisiana, Oklahoma, New Mexico (shared), and Texas)
Angel Flight Southeast (Florida)
Angel Flight West (Alaska, Arizona, California, Colorado, Hawaii, Idaho, Montana, Nevada, New Mexico (shared), Oregon, Utah, Washington, Wyoming)
Mercy Flight Southeast (Alabama, Georgia, Mississippi, South Carolina)
Mercy Medical Angels coordinates free airline tickets for flights over 600 miles and negotiates low cost air ambulance service for individuals and families, who are in need of this special service. Telephone Number 888-675-1405.
Our Leadership
The Air Charity Network is a collaborative organization. Each member of the network holds a seat on the Air Charity Network Board and the officer positions currently rotate annually among the member organizations.
Each individual member member of the network has its own full-time staff and autonomous Board of Directors. While most policies and procedures are commonly shared by each of the members, there are a few unique qualities within each due to geographic location, populations served and regional cultural aspects. However, the mission and purpose of all members is focused on "giving hope wings" to children and adults in need by leveraging aviation resources.
Non Profit Legal Status
Air Charity Network is a national non-profit, tax-exempt organization recognized by the IRS under Internal Revenue Code Section 501(c)(3) and is supported entirely by the generosity of the volunteer pilots who donate the costs of every flight, tax-deductible donations from individuals and corporations, and grants from foundations.
From the donations that are distributed to our member organizations, over 94% is used to directly support program services.